Ongoing and Unique Activities
For dates, times and activity summary see the bottom of this page. For activity details please refer to our monthly magazine Going Dutch or view our online Calendar (login required). To login, use your AWC membership ID and PW given to you for GroupSpaces. GroupSpaces is where we manage our membership list and calendar of events. After you are logged in, you can view other member profiles, RSVP for activities/events, post comments and sign up for AWC sub-groups.
Ongoing Activities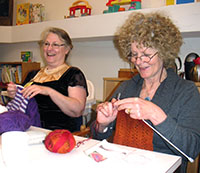 ---
MONDAYS – 9:30am Walkie Talkies (FREE)
TUESDAYS – 10-12pm Chat, Crafts & Cake (FREE)
TUESDAYS – 1-3pm Tennis League Dekker Tennis courts (€275 members)
WEDNESDAYS – 10:15-11:15am Pilates (€15)
THURSDAYS – 6:00pm Thirsty Thursday. We'll meet on the third or fourth Thursday of each month for a casual, no-stress evening. See calendar for locations and dates.
MONTHLY – Book Club, Out to Lunch Bunch, Heart Pillow Project, and Wassenaar Coffee & Conversation
Activity Descriptions
Walkie Talkies
Whether you count your steps or just want to walk with friends, the Monday morning Walkie Talkies is a fun way to start the week. The group meets in front of the Clubhouse before heading out for an energetic walk to various destinations in the area, whether in the city, at the beach, or the woods. On occasion, there is a longer walk, which is posted on the AWC Facebook Group page and via email for those who have signed up to receive. For the walking schedule or to receive Walkie Talkie update emails contact Emily van Erten at: vaneerten@gmail.com.
Mondays @ 9:30 am
 Meet at the AWC Clubhouse
Chat, Craft and Cake
Let's get creative! The AWC will be open to all crafters. If you've looked for an open space large enough to lay out that king-size quilt, or need more table space to organize your photo albums or scrapbooks, or just need an excuse to stitch, pack up those supplies and bring them to the Clubhouse so you can chat with fellow AWC Members while you work. You might be able to pick up some suggestions from a fresh pair of eyes. Each week a different member will bring a cake made from a never-before-tried recipe for tasting and critiquing. Babysitting is not available so we can't accommodate children. Questions? Please contact Suzanne Dundas at: awcthehague.crafts@gmail.com
Tuesdays @ 10:00 am – Noon
 Meet at AWC Clubhouse
Wassenaar Coffee and Conversation
If you live in or around Wassenaar, join your neighbors for a once-a-month morning gathering without going to the Clubhouse. One Member living north of The Hague will host a casual coffee at her home on the first Thursday of the month for Members and prospective Members. Suzanne Dundas coordinates the meeting place with each hostess and will send a monthly invitation to sign up. For an invitation to this group please contact Suzanne at: dundo@casama.nl.
First Thursday of every month from 9:30 am – 11:00 am
. Locations to be announced every month via email



Out to Lunch Bunch

If you're interested exploring new restaurants in the area with other Members, then this is the group for you! Each month we meet at a different restaurant on varied days to accommodate a variety of schedules. If you have a favorite restaurant in your neighborhood, please contact Greetje Engelsman at: engelsman@gmail.com.
Check the AWC Calendar for upcoming Lunch Bunch events

Locations to be announced 

Food/Drinks at your own expense
AWC Book Club
The AWC Book Clubs are open to all readers and New Members are especially welcome! There is no obligation to attend every meeting or to lead a discussion. Snacks are provided by Book Club members. There are two Book Clubs hosted by AWC Members – one in the daytime and one in the evening. Questions? Teresa Mahoney organizes the daytime group and Rebecca Fry handles the evening meetings. For more information: awcthehague.bookclub@gmail.com. Happy reading!
Daytime Book Club
This can be a one-time event for you or on your calendar each month. One participant brings snacks and leads the discussion and the coffee is compliments of the AWC.
Last Thursday of every month @ 10:00 – Noon
AWC Clubhouse
Daytime Book Club Reading List:
Thursday August 24 – Moonglow by Michael Chabon

Thursday September 28 – Commonwealth by Ann Patchett

Thursday October 26 – The Boy Who Harnessed the Wind, Kamkwamba and Mealer

Thursday November 16 – The Nix by Nathan Hill

Thursday December 14 (date subject to change) – Olive Kitteridge by Elizabeth Strout
Evening Book Club

The AWC Evening Book Club meets on the third Wednesday of the month, with some exceptions to accommodate school breaks and public holidays.
Third Wednesday of the Month @ 7:30 pm

AWC Clubhouse

Evening Book Club Reading List:
Wednesday, September 20: Commonwealth by Ann Patchett
Wednesday, October 25: The North Water by Ian McGuire
Wednesday, November 15: News of the World by Paulette Jiles
Wednesday, December 13: The Year of the Runaways by Sunjeev Sahota
Heart Pillow Workshop

This is the 10th year that AWC volunteers will make heart-shaped pillows to support the arms of breast cancer patients in area hospitals. Each pillow is made with tender loving care, wrapped in a plastic bag tied with a beautiful bow and a message signed by a volunteer. No sewing skills are needed; just the ability to cut and stuff! It's a fun way to meet new friends while contributing to a worthy cause. The emails we receive from women who received one of our pillows are so touching and show that we, as women, are linked everywhere to this terrible disease. We are proud to provide women with something not only practical, but comforting as well. If you can cut fabric, stuff fiberfill, thread a needle or tie a bow, we need you! No sign-up is necessary. For more information, send an email to: awcthehague.heartpillow@gmail.com.
Every third Tuesday of the month from 12:00 pm to 2:00 pm – Resumes September 21

AWC Clubhouse
Ladies Night at the Movies

Who doesn't like going to the movies with friends and a bucket of popcorn! The first Monday of the month marks Ladies Night at the Movies and each film is chosen based on what's playing at area theaters. Rebecca Fry coordinates each month's outing. For more information, please contact Rebecca at: fry_rebecca@hotmail.com.
First Monday of the month – Resumes September 4

Locations are TBD. Everyone pays for her own ticket
Thirsty Thursday – New!
Had a busy week? Or maybe the entire month has been busier than busy? It's time for a break! Join your AWC friends for a drink at our new event, Thirsty Thursday. We'll meet on the third or fourth Thursday of each month starting at 6 pm for a casual, no-stress evening. There's no need to RSVP. Just come by when it suits you and stay for a drink or two.
Thursdays @ 6:00 pm
Check the AWC Calendar and eNews for locations
No RSVP Needed. Food/Drinks are your own
2017 Activities
RSVP to awcthehague.activities@gmail.com. Payment for all activities must be made within 5 calendar days of reserving or your name will be moved to a waiting list. Payment can be made in the Front Office by PIN or by bank transfer to the AWC account # NL42ABNA0431421757.
October
2 Ladies Night at the Movies
4 Travel Talk
5 Wassenaar Coffee & Conversation
AWC Board Meeting
Social Security Administration Information Presentation
8 Christmas Joy Cardmaking
9 Website Basics Part 1
10 Heart Pillow Workshop
Walking Tour of Volendam
12 October Monthly Meeting
Handbag Auction
13 Life Coaching Workshop
14 Wine Tasting – California Crush
16 Out to Lunch Bunch (Brasserie Zing)
17 Breast Cancer Awareness Lecture
Thirsty Thursday
18 Sustainable Development Goals Workshop
Evening Book Club (The North Water by Ian McGuire)
26 Daytime Book Club (The Boy Who Harnessed the Wind by Kamkwamba/Mealer)
Guided Tour of Neighbours Portraits and Flanders (Guided Tour, Mauritshuis)
November
2 Wassenaar Coffee & Conversation
AWC Board Meeting
4 Medieval Dinner at the Stadsherberg de Mol
6 Ladies Night at the Movies
11 AWC Holiday Bazaar
12 AWC Holiday Bazaar
14 Heart Pillow Workshop
15 Evening Book Group
16 Daytime Book Group
21 Country & Christmas Fair
23 Pieterskerk Thanksgiving Ceremony & Lunch
---
AWC Guest Policy
Guests are welcome to participate in AWC activities and tours on a limited basis. As a nonmember, a guest is limited to attend two functions per calendar year and will be charged an additional nonmember fee. Only Members are entitled to use babysitting services.