2018 Holiday Bazaar
The American Women's Club (AWC) of The Hague will be holding its annual Holiday Bazaar in November. The AWC Holiday Bazaar is one of the club's biggest fundraisers.
Vendors
If you would like to be a vendor at our next holiday bazaar in November 2018, please submit the vendor form below to us.
---
The American Women's Club of The Hague wants to thank everyone who visited our 2017 Holiday Bazaar at the beautiful Carlton Ambassador Hotel in November. We hope you found the perfect gift for everyone on your list! We look forward to ringing in the holiday season with you again in 2018.
---
2017 Holiday Bazaar
Carlton Ambassador Hotel
Where: Sophialaan 2, 2514 JP The Hague
Date:
November 11th and 12th 2017
2,00 Euro admission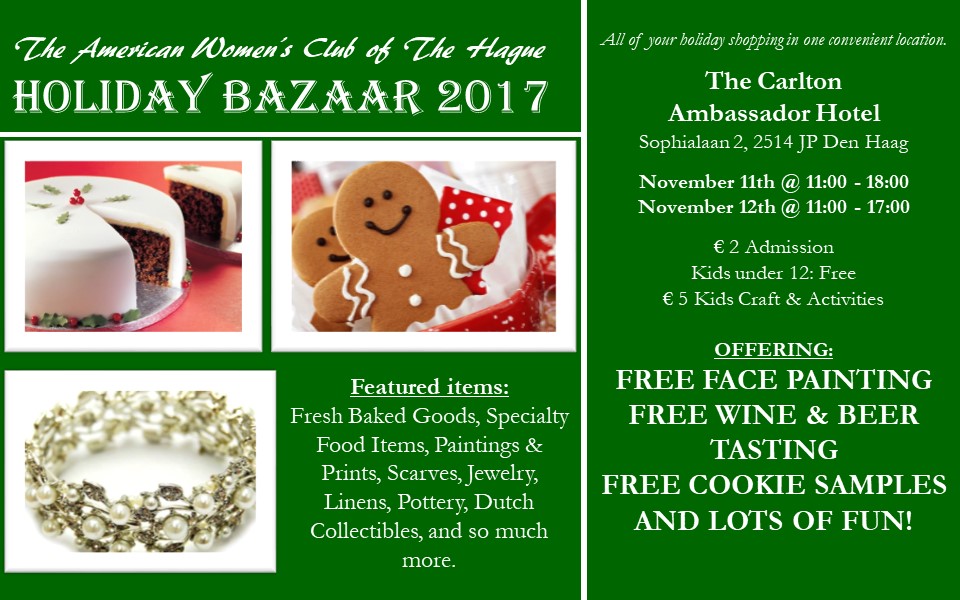 FREE Face painting (kids) – FREE Wine tasting – FREE Cookie samples – and lots of FUN!
Don't go rushing around to different stores this autumn; instead sit back and let the vendors come to you.
Shoppers can find many products at more than 40 vendors, featuring high-quality goods from all over the world including handmade jewelry, artwork, clothing and scarves, pottery, olive wood items, home decorations, gift items, children's items, fresh baked goods and holiday decorations.
This Holiday Bazaar will feature a wide variety of international gifts, a renewed focus on handmade and unique gift ideas, health and wellness vendors plus wine tasting.
In addition to children's activities, designed to keep your children entertained while you shop, there will of course be the opportunity to take a picture with Santa.
The AWC Holiday Bazaar dates back to 1932 when it was opened by the Queen.
2017 Vendor List
2cocoon
3 SistersDesign
Ada Jewelry
Alexandra Breeze Ceramics
American Travel Center
Amy Edwards Art
Aromatique International
Art by Rachel
Bayong Philippines
Bio Beauty Company
Boekbindatelier
Carlos Jorge German Castelan
Chiropractie Noordzee
De Tinkoepel
doTTera
Eat Play Love
Elate & Co
Essence Therapeutics Probiotic Skincare and Ferments
G.J. Oosterheert-De Nijs
Gabrielle Fashion Consultant
GK Moments
Julie's American Cookies
JuveLina
Karina Romay Bags
Maria Cardelli
Masline Mendolia Olive Oil
MCG
Nerida van der Molen-Berrocal
Osodry
Potteryworkshop
Quiltshop Andrea
Raspberry Craft
Rinda Refuse Mode Accessoires
Roemwijn
Stop The Traffik
The Stahili Foundation
The Thread Orchard
Tupperware
Typical Dutch Art
Usborne Books
Veronica Weaves
Vinita Salome Photography
Voorburgse Bierwinkel
With Edgar
Wonders
Vendors
Thank you for your interest. We are sorry, but we are full and no longer accepting application for our November 2017 bazaar. Please check back with us for our holiday bazaar in 2018.
If you would like to be a vendor at our next holiday bazaar in November, please submit the vendor form below to us.