2017 Events
Semi-Annual Kick-off


Twice a year we gather at the AWC clubhouse to "Kick-Off" our Fall and Spring seasons. During our Open House format, you can drop in when it is most convenient for you to learn about our new Activities and Tours and benefits of membership. Our next events will be on the following dates:
Fall 2017 Kickoff – Sep 13th & 14th 2017
Welcome to 2017! Drop by the Clubhouse on Wednesday evening, Sept 13th or Thursday, Sept 14th to mingle with familiar faces and new members and find out about all the events and activities planned for the new year.
Evening: Wednesday,September 13 6pm – 8pm
Day: Thursday,September 14 10am – 2pm
Location: AWC Clubhouse
Calendar: http ://groupspaces.com/AWCTheHague/item/1074384
---
Thirsty Thursday – Sep 28th 2017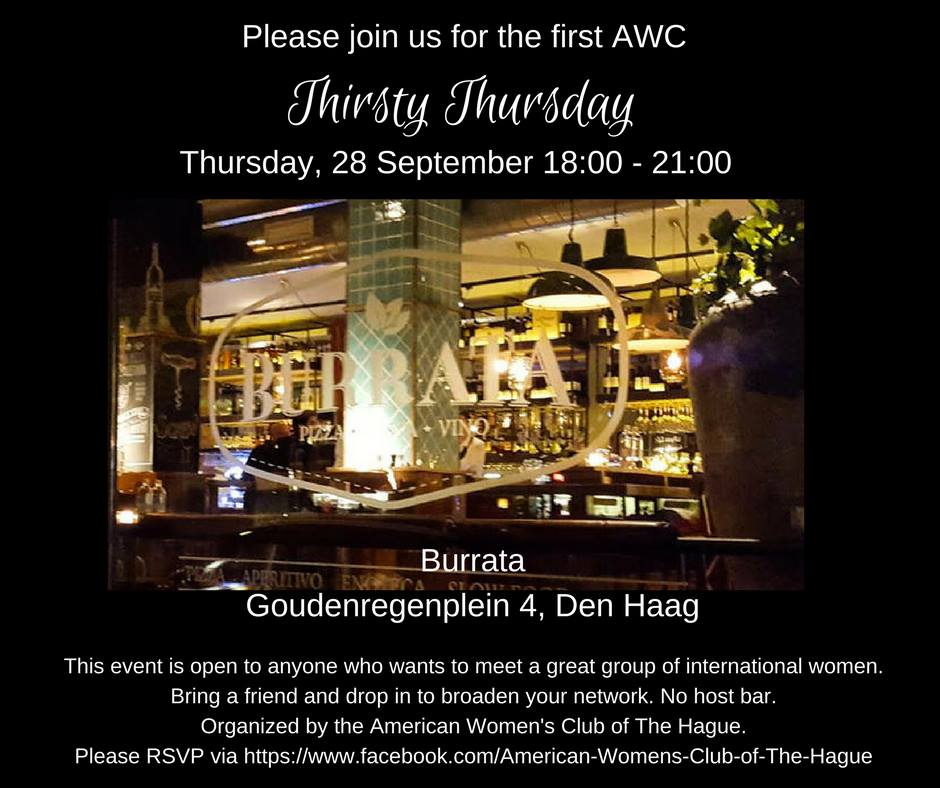 ---
Social Security Administration Presentation – Oct 5th 2017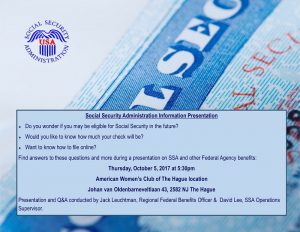 ---
FAWCO Helping Handbags Auction – Oct 12th 2017
This very popular annual event raises funds for a variety of FAWCO projects. Over the years, we have raised money for the FAWCO Emergency Relief Fund and the FAWCO Target Project: Clean Water for Cambodia. In 2013 we raised €1.308 for a NEED scholarship to train a primary school teacher in Burkina Faso. In 2014 the Helping Handbags Auction raised $2721 USD (over €2000) for the FAWCO Target Project: Human Rights for Women — Free the Girls. To learn more about FAWCO, visit our
FAWCO
page.
Helping Handbags 2017
Date: October 12th
Time: 12:30pm
Location: AWC Clubhouse
---
Holiday Bazaar 2017 – Nov 11th & 12th 2017
Please save the date for our annual HOLIDAY BAZAAR. The American Women's Club of The Hague invites you, family and friends to support and enjoy this wonderful event.
This holiday celebration gives you the opportunity to find that unique gift, for which you've been searching. There will also be a wide variety of baked goods, jams, oils, honey and spices. There will also be beautiful ceramics, artwork, wide range of unique hand-crafted jewelry and clothing items, men's gifts, wine, children's gifts, and so much more.
There will be activities planned just for the children, and even Santa Claus will make an appearance. Visitors may pay with cash, PIN or credit card. For anyone interested in volunteering to help on the Bazaar days or helping bake prior to the weekend, please sign up at the September kickoff meeting or stay tune for sign up information in the next Going Dutch. More information