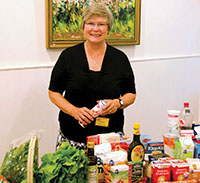 To welcome you as a newcomer to our Club, as well as to help those who are newly settling into the Hague, we have a Newcomers Committee who plans activities that provide insights into life in the Netherlands. These activities include a class introducing Dutch products that you'll find in the shops, which is helpful even if you've lived here for longer, as well as walking tours of The Hague, interesting cultural lectures, newcomers' coffees, and other welcoming activities.
View our Calendar for upcoming Newcomers' activities.
If you have any questions, don't hesitate to contact us.
Helpful Links for Newcomers to the Hague
Living and working in The Hague
Local news for internationals
DutchNews – the latest news from the Netherlands in English
The Hague Online – local news & events for international community
Other helpful links
Emergency Numbers
General Emergencies (police, fire brigade, ambulance throughout Europe. This is an emergency-only

number.

    112

Police Information (Hold the line until after the message.

This can take several minutes.)

     0900 8844