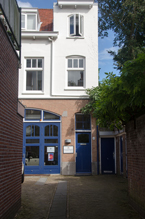 The AWC's Clubhouse is located in the Statenkwartier and is easily accessible by Trams 1 and 16, as well as Bus 21. There is available street parking in the neighborhood. Paid parking starts at 13:00 (1:00pm).
Hours of operation:
Normal hours Tues & Thurs 10-2pm
Summer hours Tues 10-2pm (July/Aug 2018)
Contact form
For any technical problems or questions about the Website, please contact our Webmaster.