announcements
********
AWC The Hague now has a wonderful Clubhouse in the Benoordenhout area of The Hague.  Our address is: Bisschopstraat 5, 2596XH The Hague.   This easily accessible location forms the heart of the Club and many of our activities and events are held in this accessible and mutil-purpose venue which encompasses a large meeting area, a bar, a cosy corner, and kitchen area.    It really is a home away from home!
********
WELCOME FROM THE AWC THE HAGUE BOARD
Welcome to the website for the American Women's Club of The Hague! 
AWC membership is an essential part of life for our diverse English-speaking American and international membership who live in the area of The Hague. In fact, we lovingly call AWC our "home away from home".
The AWC of The Hague provides a sense of community and friendship for those making the Netherlands their home, offering a network to meet and make new friends, share information and experiences, contribute to the community, and engage in fun and varied activities.  As a group of diverse members, we embrace the Dutch experience while honoring our own traditions.  Membership provides opportunities for community involvement and philanthropy; to enjoy cultural, educational, and sport activities; and, most importantly, supporting one another and building lifelong friendships. 
The AWC Board wants to serve the Club, the members, YOU!  Everyone's voice is important and we want to hear from you. We look forward to honoring the 93-year legacy of the AWC of The Hague while embracing the association's future. If you're looking to expand your network and build life-long friendships, we're the right place for you!
The 2023/24 AWC The Hague Board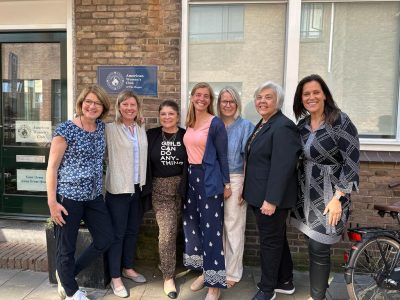 Join us for our December Monthly Meeting on Thursday 14th December which features our guest speaker, Lincoln Sullivan Verseveldt. Guests and potential new members are welcome to attend. For more details, email info@awcthehague.org