A Home Away From Home With Lasting Traditions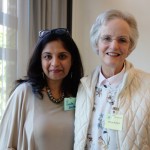 Since 1930, the American Women's Club of The Hague has been a home away from home for our Members. We are an inviting and su[pportive organization, offering our Members numerous activities, tours, interesting lectures, and charitable opportunities throughout the year. We are a non-profit organization, registered with the Dutch government. Our AWC, strives to make you feel welcome and comfortable, and help you make the most of your experience living abroad.  Click here to Meet the Board.
The History of the Club:
The AWC of The Hague was formed in 1930. A group of American women had been meeting socially when they decided to organize in a more formal way. Luncheon invitations were sent to American women living in The Hague, Rotterdam, Amsterdam and surrounding areas. As a result the AWC of The Hague was started with 55 charter members. They held monthly meetings, teas and programs, including an annual Thanksgiving dinner at the Hotel Des Indes. At the first of these dinners Judge and Mrs. Frank Billings Kellogg were notified that he had been awarded the Nobel Peace Prize in recognition of the Kellogg-Briand Peace Pact of 1928, which condemned war and promoted peaceful settlement of international differences.
In 1931 the AWC of The Hague was one of the founding member clubs of FAWCO (Federation of American Women's Clubs Overseas), part of whose mission statement is "to contribute actively to the global community with a specific focus on education, the natural and human environment, multicultural understanding and international goodwill."
In 1932, Queen Wilhelmina opened an AWC Bazaar that was held for the benefit of a hospital in The Hague. Other funds raised over the years were donated to the Sophia Institute in Scheveningen for children with tuberculosis, the Juliana Children's Hospital, Bronovo Hospital, various breast cancer organizations and more.
Since our founding, we have continually found ways to contribute to both local and international charities. Visit our Philanthropy page for more information.
Through the years the Club has grown, but at its heart it remains a group of friends who encourage and support one another.